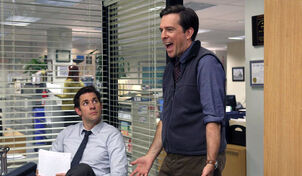 Andy's Ancestry is the third episode of the ninth season of the American television comedy "The Office" and the show's 179th overall. It was written by both Jonathan Green and Gabe Miller and was directed by David Rogers. It originally aired on NBC October 4, 2012.

Synopsis
Fed up with Andy, Nellie decides to prank him, printing a fake genealogy that displayed him as a relative of First Lady Michelle Obama, who is known to have white relatives. Excited about being a relative of one of the most popular women in America, Andy announces this discovery to the entire office. He assumes his employees are equally as excited as he is, but Oscar actually forms a theory that Andy's ancestors were slave owners, that being the only possible explanation as to how he had a black relative. When Andy hears of this, he holds a meeting pointing out embarrassing relatives of his other co-workers, most notably asserting that Jim was related to former President Richard Nixon. This, coincidentally, is something that Pam says often because of their supposed similar appearance.
Meanwhile, Pam teaches Nelly how to drive, and on their trip, Pam realizes how could Nellie actually was. She's impressed that she pulled such a clever prank on Andy, and even talks to her about the feeling she has that Jim is keeping something from her. Nellie immediately thinks that Jim is having an affair, striking suspicion in Pam.
Later, Jim finally tells his wife that he took the job he was offered in Philadelphia.
Cultural references
Amusing details/Trivia
After the release of the episode's plot synopsis, Geni.com, a genealogy and social networking website, was able to prove that Ed Helms is in fact Michelle Obama's 18th cousin once removed.
Full Cast
Supporting Cast
Guest Starring
Community content is available under
CC-BY-SA
unless otherwise noted.